AirMagnet Enterprise
Wireless Intrusion Detection
Product Introduction
24x7 WIDS/WIPS for proactive enterprise Wi-Fi network security. AirMagnet Enterprise centralized wireless intrusion detection/prevention system(WIDS/WIPS) defends your wireless environment by automatically detecting, blocking, tracing and locating any threat on all Wi-Fi channels. It contains an unmatched suite of event alerting, escalation, remote troubleshooting, forensic analysis, network health check, and professional PCI and other policy compliance reporting. The end result is a unified system that scans your environment 100% of the time to ensure your WLAN is performing safely and securely and is meeting the needs of your users and applications. In addition to rich security features, AirMagnet Enterprise constantly monitors the health and performance of the WLAN and RF environment to proactively detect evolving problems that can lead to network interruption. The system detects issues, gives users remediation advice and includes active remote tools to troubleshoot the issue. This allows staff to avoid network downtime and vastly reduces the time-to-fix for any outage, leading to greater uptime, better performance and overall higher end-user satisfaction.
Full-time packet and RF scanning of the air so costly threats aren't missed
24x7 monitoring for connectivity issues such as channel interference, coverage, malformed packets, De-Authorization attacks to ensure optimal and reliable wireless network availability
Automated Health Check (AHC) proactively monitor and notify any wireless AP performance issues
Power to actively test, diagnose and remediate problems remotely in less time
Dynamic Threat Update (DTU) technology ensures the network is always rotected as new threats emerge
​802.11ac support with 802.11ac compatible Access Points
Best of Breed Security Architecture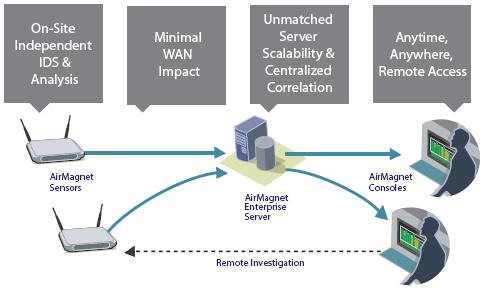 System Architecture Diagram
AirMagnet Enterprise offers the only solution in the industry to meet the established standards of a mission-critical security application. It is the only system to build fault-tolerance into each component, with fail-over boot images in every sensor and automatic server fail-over licenses that come standard with the system. Additionally, AirMagnet Enterprise sensors can operate as fully independent IDS/IPS nodes detecting and remediating threats without losing information, even if the network connection to the server is lost for days.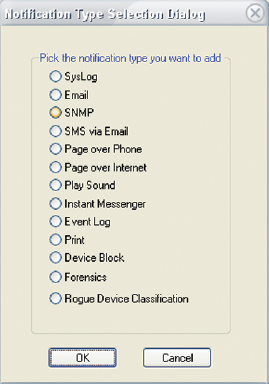 Find Outages and Emerging Problems Before User are Affected
Powered by the Automated Health Check (AHC), AirMagnet Enterprise sensors and Software Sensor Agents actively test and verify complete WLAN connectivity from the wireless link all the way through to application servers or the Internet, automatically detecting critical outages or network degradation while pinpointing the exact source of trouble. Sensors running AHC tests provide a true client perspective, as they fully authenticate to the network and proactively probe for problems, which can be related to WLAN issues or other network resources. This provides network staff with immediate and specific information on the root cause, so they can respond often before users are impacted.
802.11a Analysis :
AirMagnet Enterprise provides 802.11ac analysis capabilities utilizing existing SmartEdge Series 4 sensors. AirMagnet Enterprise integrates with 802.11ac capable AccessPoints to provide:
Detection of 802.11ac AccessPoints
802.11ac Frame Analysis
Rogue 802.11ac device detection and blocking